Introducing Sara Star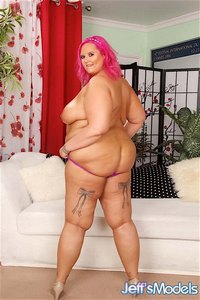 If there's one message we have for sexy newcomer Sara Star, it's thanks for choosing a career in BBW Adult.

Miss Sara is a dynamic performer and a big turn on, her gorgeous body and sexual energy are alluring, just looking at her is getting fans hard and horny.

She's not just a hot bod and a great fuck, Sara has a charming personality that comes through in her playful banter with her stud, she's just the type of girl you'd love spending some quality time with.

We couldn't be happier or hornier to present this absolutely luscious BBW model for your stroking pleasure.

Sara Star is easily one of the hottest performers to come along in recent time.

Sara Star Makes Her Hardcore Debut
Share This Article