Bad Ass Sexy
You know the kind of sexy that makes your jaw drop to the floor and your eyes bulge out? Well, that's the exact reaction you'll have once you feast your horny eyes on the super sexy of Miss Angelina Castro. This voluptuous vixen knows she's fine too, but in no way stuck up, just very horny and desirous of big hard black cock.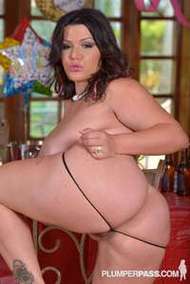 Angelina gives you the chance to see just how much she does love cock in her new scene called BBW Revenge Fuck', when after her husband cancels on their anniversary party, she decided to jump on the first big cock that comes into the room. My favorite part of her scene is when she moans "Oh mother fucker, fuck that shit like that".

How can you not love a girl who talks dirty while she's getting pounding, you'll also be mesmerized watching Angelina's huge tits bouncing and slapping all over the place as she gives her stud the ride of his life. This is BBW hardcore at it's best, you'll fall in love with Angelina.